Here are three brief reviews of books I've come across recently. If you're on Goodreads, add me for more reviews.
The Tech-Wise Family: Everyday Steps for Putting Technology in Its Proper Place by Andy Crouch
The Tech-Wise Family isn't primarily a practical how-to guide on parenting in the age of devices and connectivity, but rather a theological and philosophical guide that is much more helpful. Instead of a laundry list of dos and don'ts for the family, Crouch seeks to change paradigms with using—not abusing—technology. "Technology is only very good if it can help us become the persons we were meant to be" (63). "We are going to have to commit to make every major decision, and many small decisions, on the basis of these questions: Will this help me become less foolish and more wise? Will this help me become less fearful and more courageous?" (68).
Crouch challenges readers to remember important things in life like relationships, creativity, virtue, and acting courageously, and to form their lives around those pursuits, not around a default setting in front of a glowing rectangle.
The pursuits Crouch encourages will only become more important and counter-cultural as gadgets and screens continue to invade every part of our lives. I appreciated Crouch's honesty in sharing his family's reality and his personal struggles with many of the issues like accountability and keeping tech free spaces at home. Keeping technology in its proper place is a great challenge, but I know The Tech-Wise Family will help many in doing just that. (An excerpt and outline of the book: Technology is in its proper place when…)
Evangelicalism Divided: A Record of Crucial Change in the Years 1950 to 2000 by Iain Murray
This book first released in 2000 was quite the eye-opener. Murray writes on major events in the second half of the twentieth century of evangelicalism and how they have shaped evangelicalism for the worse. He includes critiques of Billy Graham's ministry (specifically his ecumenism), Evangelicals and Catholics Together (specifically J.I. Packer's involvement), compromises on the inerrancy of Scripture by evangelical scholars, the rift that separated John Stott and Martyn Lloyd-Jones, and several other developments. Andy Naselli provides a more helpful overview.
Murray states a central critique as this: "The case of this book has been that for over a hundred years a sustained attempt has been made to popularize a definition of Christian which possesses no biblical authority at all" (299). Or, in other words, if we don't take seriously the question "Who is a Christian?" with utmost seriousness, we enter into dangerous territory even if we had well-intentioned reasoning. While I appreciate the heck out of this book, it seems a little one-sided with Murray being a Lloyd-Jones guy and all. (Although after reading the book, I have even more respect for Lloyd-Jones.) I found Roger Beckwith's review (himself a friend of Packer and Stott) of this book helpful in balancing Murray.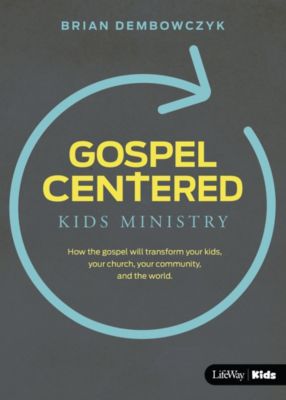 Gospel-Centered Kids Ministry: How the gospel will transform your kids, your church, your community, and the world by Brian Dembowczyk
This isn't as much a review (as I have only skimmed this book) but more of a recommendation. Brian Dembowczyk serves on The Gospel Project team and has written an accessible and practical philosophy of gospel-centered kids ministry. The book is divided into six sections: when the gospel is in the margins, gospel-centered teaching, gospel-centered transformation, gospel-centered mission, gospel-centered leaders, and gospel-centered parents (notice a theme?). Dembowczyk covers a lot of ground in 150 pages with 34 blog-post length chapters. I'm not a kids ministry leader, but if I was, I would read this book with my leaders. It is engaging and crystal clear. All too often our children's ministries produce kids who know basic Christian morality and assorted Bible stories but not the gospel. This book will help ministry leaders center their ministry on what is of first importance (1 Corinthians 15:3): the glorious and transforming gospel of Jesus Christ.